Day Camp 2017       July 31-August 4
               Full Day Camp (9 am-3 pm) for campers

entering            kindergarten-6th grade in Fall 2017
Half Day Camp (9 am-noon) for campers ages 4 & 5 years old
Note:
Camp will be held at Temecula United Methodist Church
42690 Margarita Road, Temecula CA
The full-day camp is led by trained and screened counselors of Lutheran  Retreats, Camps and Conferences who bring an   activity-filled program to Temecula. Campers participate in games, water  activities, singing, crafts, worship and community-building without the worry of being away from home. Bible studies are filled with activities that reinforce the lessons.
The half-day preschool portion of the camp is run by trained and screened Hope volunteers. Half-day campers begin with the big kids for worship, then go to a separate area for their own age appropriate activities that  correspond to the theme.
$120 for full-day camper*
$45 for half-day campers*
*$10 discount for each additional camper in family
Partial Scholarships available for those in need
Wet & Wacky Wednesdays – June 14 – August 9
Friends Welcome!!!
Each Wednesday, June 14 to August 9 all youth in middle school, high school or college-aged and their friends are invited to have fun in or around water in some form at various locations around Southern California. Deadline to RSVP for each event is NOON the Sunday BEFORE the event you wish to attend.
Parents  are needed to drive/chaperone for most events. Events are:
July 13 – Wet & Wacky Wednesday moves to Thursday, JULY 13 FOR THIS WEEK ONLY  – LAKE HEMET SPLASHING EAGLE WATER PARK – Open to the whole congregation – children 5th grade and under MUST have a PARENT/ADULT with them
July 19 – Confirmation Camp week –  no Wet & Wacky Wednesday
July 25 – Water Scavenger Hunt & , Pool Party
August 2 – Broomball with LRCC Day Camp Staff and other Harvest Conference Churches
August 9 – Kayaking or Stand-Up Paddle Boarding around Mission Bay, games, BBQ & bonfire worship.
Click button to learn more about and/or register for all or any event.
Order Your Hope T-shirts and Polo Shirts thru July
Proceeds benefit Hope's new Church and Preschool
T-Shirt: Youth $15    Adults $20     Polo Shirts $25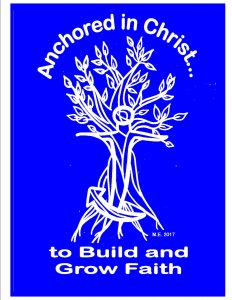 Youth and adult shirts are "Hope" blue with white print. T-shirts have "pocket-sized" Hope logo, name and city on front with large "tree" design on back. Polo shirts have "pocket size" design on front with no print on back.